Interview with best-selling author Linus Jonkman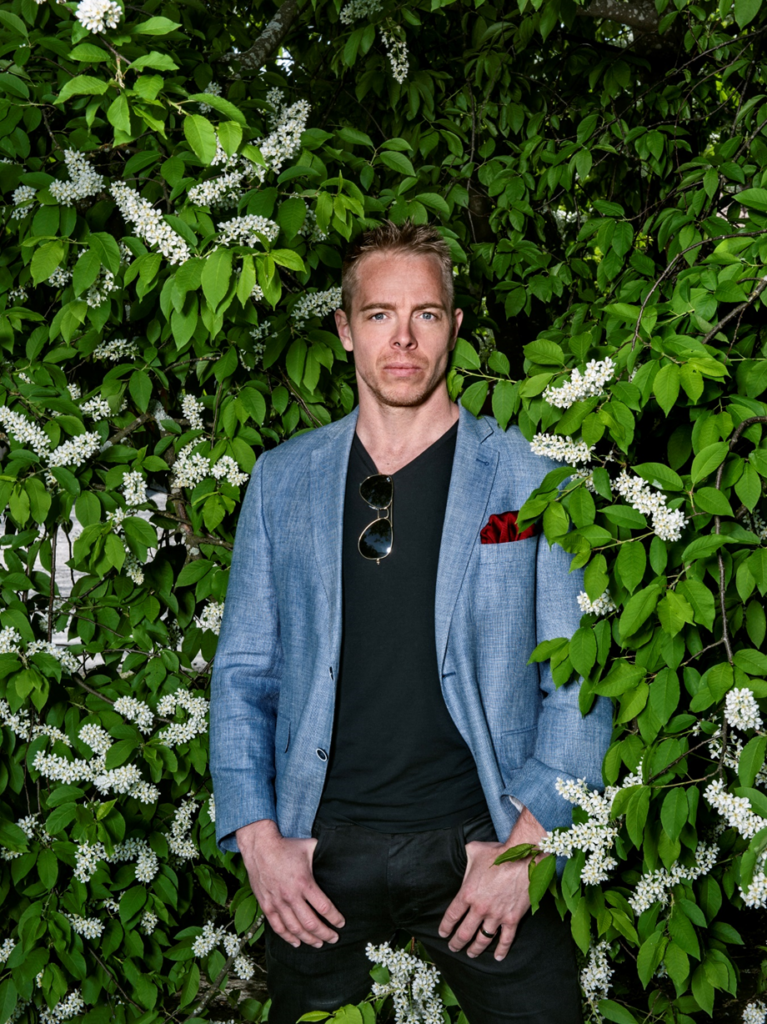 Author Linus Jonkman. Photo: Johan Bergmark
The work room is often a social space with a lot of sound and interaction. But it doesn't suit all people. Author Linus Jonkman expresses appreciation for the value of what he calls "självsamhet" (Eng."selflessness") – a certain voluntary solitude.
Linus Jonkman. Author of the bestselling book Introvert: den tysta revolut- ionen (Eng. Introvert: Friendly Takeover). When I first call him for an interview about introverts and the room of working life, he says something like: "Oh yeah, I think the potential of introverts is underestimated." He mentions the office landscape as a contemporary workspace that really disadvantages more introverted workers. It then turns out that he is going to a conference on what is called "human relations" in management lingo, two spring days in early May.
Consequently, I take the commuter train to a meeting hotel near Bro outside Stockholm for a conversation, one-to-one. The meeting itself has been arranged by HR conf, a pro bono organization. The organization has attracted those in charge of human relations and others who are profoundly intrigued by human collaboration in workplaces. Very few lectures. Instead, the focus is on group discussions, informal meetings and networking. A "non-conference".
Linus is a very busy man and therefore not able to talk to me at the time of my arrival at the meeting. He will soon be lecturing on theory presentation to the participants. I listen to his presentation. Linus is like a fish in the water in this context. A brilliant presenter, wearing a white t-shirt, trousers and white gym shoes. He really enthralls the crowd that has gathered. Questions and answers float through the air for him to digest. Then it's time for lunch. On the way to the meeting hotel, which is housed in an old manor house next to the water, the gravel on the walkway under foot has a crisp crackling sound. He begins to talk about his background:
"I first trained as a cook," he begins the conversation.
While training as a chef, he realized that he was not fit for the job. Working environment was far too extrovert, easygoing in terms of spontaneity and too switchy and pacey for his liking to suit his persona. Then he started drawing and painting, making a living as a freelance illustrator. But the way to earn one's way led to unstable finances, he thought. So, he then in consequence trained as a network technician. Once he started working in technical professions, he discovered that many technicians are terribly bad humanists. He began studying psychology, went from being a pure technician to technical project manager and eventually an organizational consultant. He started writing books, and then there were lectures and so it has rolled along. Today he is also responsible for the "People and organization" dispatch within a company in southern Sweden. Linus goes on and on. He is calm, yet quite eloquent and talkable and very energetic.
Lecture on corporate culture
After lunch, he will give another lecture. This time about corporate culture. He begins the presentation by stressing the importance of the sense of commitment mustered by employees. This requires the development of an experience of participation. The confidence that yields direct communication with the managing director, he thinks is important. Talking directly to your managing director should be the most desirable option in order as to avoid useless feedback and too many instances of middle managers talking in a vociferous manner only to really talk to the man responsible in the very end. It's an outdated approach. "Instead, there should be a straight line in an organization, " Linus adds. At his company, surveys are carried out to see how emotional import to act accordingly is affected by increased pay-earners' influence alongside a period of trust also for the entire workforce of employees.
When – finally – he has time for a formal interview, he suddenly stops on mid-road. The spring sun is shining while dark clouds and snowfall are there hanging, a stone's throw away from us, it seems.
"Strange weather," he ponders.
He then sets out on a journey talking about how the book Introvert came about. As a child, he was confident that he was an introvert. But at school, he put a façade on himself, dedicated himself to an extrovert exterior and became the "classroom clown". In our professional life, people often look at those who are most heard in a room when appointing a manager. In working life, Linus was conceived in roles with more and more responsibility. He played a role as more extrovert than he was until an "awakening" came crashing in on him, in conjunction with a night at a gala dinner – he was so overstimulated by all the impressions that he became wobbly and odd as a pure stress reaction. Then he realized that his real biological personality was different from the extrovert role he had played for the past 15 years. When he began to "reassert" the introvert within, he regained his energy. Instead of answering all the spontaneous questions, he could instead say "I need some time to ponder this bit."
"I myself first wrote a blog post about the awakening as such. The response was humungus! A lot of people recognized this…so am I and sorts…and people started writing back."
This is how the idea that led to the hit book Introvert was born, which is still in the Pocketshop Top 20 four years after it came out.
What is the difference between extroverts and introverts? Linus says that introverts get their energy in situations where you don't interact with other people. They do this to build up an energy level where they feel like they can go out and meet people. On the contrary, for the extroverts, it is activities together with other people that provide energy. It's not about which of the two types is best at relating to people. Introverts can be good or bad at relating to them. The same goes for the extrovert.
Is the fact that most western leaders are extroverts something culturally conditioned? "Yes," says Linus. In South Korea, for example, there are many introverted leaders. Many famous leaders, such as Gandhi, have been described as men of few words, but they wanted to push for change in society. Leadership is not always about talking the most, it's also about listening. Linus claims that extrovert leaders are best if the duties are reasonably monotonous, because extroverts are excellent "slave drivers" with people. But if there are many experienced employees and there is a great need for creativity and innovation, the introverted leaders have their place. Ultimately, all good leadership is about having a good way with people, he says.
Self-imposed loneliness
What can come out of loneliness? Linus turns around. Sees me right in the face:
"I usually call it 'självsamhet' (Eng. selflessness' ), he adds. 'Ensamhet' (Eng. loneliness) I think is a negative sounding word. We don't have a word for what's called "solitude" in English.
Selflessness is all about self-imposed loneliness. But our society is not good at protecting the solitary qualities. We have a working climate where you should always have an open office door or you should always let yourself be tapped on the shoulder. However, many tasks require that you really have to sit in isolation to do a good job. It's a festering wound almost to have someone walk up to you and ask blandly. "What time was the meeting?"
What does he think the union should do?
"I think the union should take care of this," he says. "Unions must safeguard people's interests. And it is not in the interest of the employees to be at the hands of an employer who places individuals arbitrarily in an office landscape, for instance."
The union should be well versed in the question, he thinks. They should have a collaboration with the Swedish Work Environment Authority or similar to push for changes so that the placement that people are exposed to is as good as it can be. Studies show that all personality types are affected by office landscapes. The feeling of being tapped in on at all times. And the level of noise and sound. Everyone gets stressed out – even if extroverts are slightly less sensitive. Given the increase in office landscape workplaces in recent years, the union has more or less been forced into acceptance of a fait accompli. Instead of pushing for health and safety issues they have focused on things like the salary audit, he adds.
When I walk out of the meeting with Linus, I am met by the nice natural environment around the classic manor house grounds. At the same time, the weather is still strangely divided; one side of the sky is steadily dark whereas the sun stubbornly lights up the other…
By Leif Jacobsson
Master of Philosophy in social anthropology and co-worker at TAM-Arkiv
TAGS: #friendlytakeover #introverts #thequalityofintroverts #selflessness #2017 #bestsellingauthor #solitude #leifjacobsson #interviewwithlinusjonkman #linusjonkman #trainedasacook #interviewbyleifjacobsson #faitaccompli #salaryaudit #book